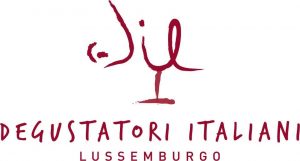 From September 2019 a new edition of our wine class…
ITALIAN OENOLOGY AND WINE TASTING
Knowing how to taste and describe a wine/Oenological technique/The wines of Italy

The wine tasting courses organized by DIL offer comprehensive training in order to gain a thorough expertise on wines from Italy and all the world. The concept is developed in three modules. (1-Italian oenology ; 2 –Wines of the World ; 3- Food and Wine Parirings). Each module can also be followed independently.
When and where?  Every Monday, at 19, starting from 30th September. Restaurant Luci(51 Rue Pierre Krier, 1880 Luxembourg).
Teacher: Isabella Sardo, President DILasbl ' Degustatore Ufficiale AIS, Best Sommelier of Luxembourg in 2008.
Price per person: 369 euros, 333 for those who owns a ' DIL Card ' 2019 (10% discount). Price includes all materials needed for the course, all the wines and the closing dinner (participants between 9 and 15).
Languages ​​used: these will be chosen according to the requirements of the group, French, English or Italian.